The history of the estate
Once upon a time
a winegrower in the Loire Country
This is the 5th generation of winegrowers, when, in 1993, Bertrand CORMERAIS settled with his father at Domaine de la Bretonnière. Thanks to various experiences, particularly in Alsace, Bertrand will bring a certain touch of modernity over the years. Thus, the estate will gradually expand its range of wines and widen its plot of land. In July 2015, Anthony BRANGER, also a winegrower's son, moved in with Bertrand, after having been an apprentice at the estate and then an employee since 1999. Each has an equally important role in the organisation to work, vinify and mature quality white, red and rosé wines and sparkling wines every year.

The land
3 different soils
that give richness and complexity to the wines
Situated on the banks of the Sèvre River, on plots of land that are very different from one another, the vineyard of Domaine de la Bretonnière has inherited diverse soils. The typicality of these different soils gives richness and complexity to the wines. Since its creation, the estate has been constantly evolving, diversifying and adopting different working and wine making methods. It has grown over the years to reach today a surface area of about 46 hectares in the communes of Maisdon sur Sèvre, Saint Lumine de Clisson and Saint Fiacre sur Maine..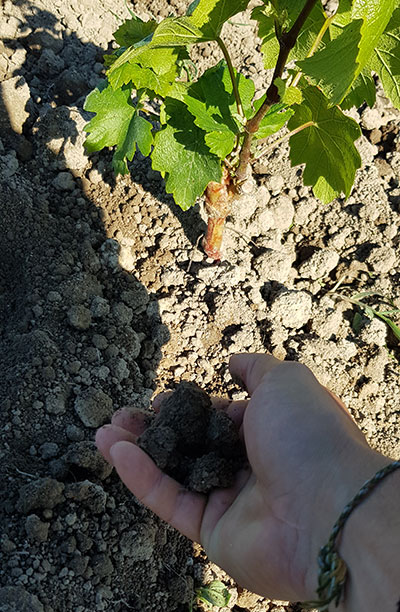 Les terroirs
Le vignoble est implanté sur 3 terroirs principaux
Le granit de Clisson
It is easily crumbly which allows the roots of the vines to take deep roots. It is a rock that warms up easily and produces powerful, rich wines with a beautiful mineralogy.
Le granite de Château-Thébaud
Resulting from the deep crystallization of a magma, it is a more or less grained rock, close to granite but darker. Our vines are located on the cliff of Pont Caffino, also called "Petit Canyon", on shallow, draining soils. The maturity of the grapes is, at this location, optimal. Thus, the wines are fresh and balance.
Le Gneiss
This metamorphic rock, rich in minerals such as quartz and mica, forms a very filtering sandy-silt soil with a high warming and mineralization capacity. The vines are planted on the plain of "Gras moutons", at the entrance to the commune of Saint Fiacre. They are ideally exposed to the sun and produce complex and powerful wines.